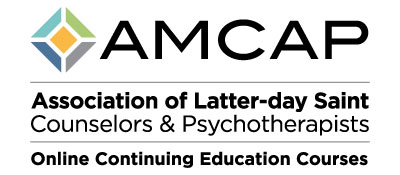 Introductory Message from our AMCAP President, Dr. David T. Seamons:
In place of the 2020 fall convention, we will be providing a number of last year's convention workshops on the AMCAP website. 
We are sensitive to the economic stress that has resulted from the virus and will offer online CEU courses at no cost for AMCAP members.
IMPORTANT: AMCAP is not approved by the American Psychological Association to sponsor homestudy (online) continuing education for psychologists.
Also please note that if you attended the presentation live in 2019, you can not get credit for that course again. If you do not remember the courses you took in 2019, contact the AMCAP office.
1. Restoration Therapy (Intro): Identifying your clients' pain and truth.
Edward Callirgos LMFT CE Hours/Credits: 1.0 (Not APA)
2. How have attitudes toward sexual assault at BYU changed since 2011?
Melissa Goates-Jones, PhD and students CE Hours/Credits: 1.0 (Not APA)
3. Cultivating self-compassion as Latter-day Saints: How being kinder to ourselves can improve mental health and foster spiritual development.
Sara McPhee Lafkas, LCSW, Ed.D. and students CE Hours/Credits: 1.0 (Not APA)
4. The Royal Road Revisited: Working with Dreams in Psychotherapy,
Rachel E. Crook Lyon, PhD CE Hours/Credits: 1.0 (Not APA)
5. Fix It or Receive It? East Meets West on the Paradoxical Path of Healing and Relationship,
Wendy Ulrich, PhD licensed psychologist, Carrie Skarda, PsyD CE Hours/Credits: 1.5 (Not APA)
6. Simplifying Ethical-Decision Making for all Mental Health Professionals,
Jason H. King, PhD CE Hours/Credits: 3.0 ETHICS (Not APA)
In addition to the above 6 courses, 4 CE credits can be obtained from Patrick Poor's AMCAP presentations in 2014 and 2015 on treating PTSD as a Dissociative Disorder. He is a CEU provider through the California Association of Marriage and Family Therapists and can provide the CEUs. More information can be found on his website. You can access his videos here if you are an AMCAP member, then contact Patrick for an evaluation at tctworks@gmail.com.
For future reference, you can access courses or your certificates here: