AMCAP – the Association of Mormon Counselors and Psychotherapists began in 1975 as a small group of LDS mental health professionals who would share informal reunions at professional conferences.
They found a need to more formally incorporate themselves into a professional organization that could acknowledge their spirituality in the context of their professional training and experience. Since then, AMCAP has grown into an international organization whose members share adherence to the principles of the Church of Jesus Christ of Latter-Day Saints.
AMCAP has always recognized the centrality of religion in the human experience. It continues its role to foster research, training, and professional development that ethically integrates spirituality in the helping process. We welcome you to join with us in this exciting endeavor.
The Four Dimensional AMCAP Approach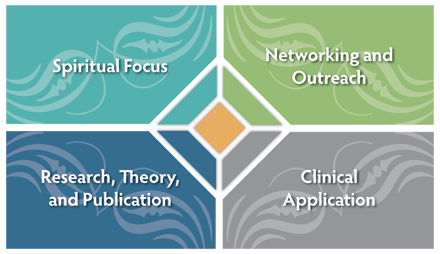 AMCAP provides information and support for LDS counselors and psychotherapists as well as professional mental health training and continuing education. AMCAP members benefit in four ways.
AMCAP is unique from all other professional organizations, in that its members are brought together not by sharing the same professional orientation, but rather by a united commitment to the teachings of the Church of Jesus Christ of Latter-day Saints. Members who are richly diverse in their geographic location, professional training, age, gender, and specialty come together to edify one another in a spirit of brotherhood and an atmosphere of faith.
"…TEACH ONE ANOTHER WORDS OF WISDOM; YEA; SEEK YE OUT OF BEST BOOKS WORDS OF WISDOM; SEEK LEARNING, EVEN BY STUDY AND ALSO BY FAITH… LET ONE SPEAK AT A TIME, AND LET ALL LISTEN UNTO HIS SAYINGS, THAT WHEN ALL HAVE SPOKEN THAT ALL MAY BE EDIFIED OF ALL…" — D&C 88:118, 122
LDS Therapist Networking and Outreach
The spirit of friendship and fellowship, the desire to learn from one another, and the impulse to share treasures of knowledge so acquired, has always motivated AMCAP members to assemble and to communicate with others. Beginning with informal office meetings in the early 1960's; growing through the 1970's to the stature of a professional organization complete with by-laws, conventions, and a published journal. Now through the Internet, AMCAP is expanding its reach to the world – seeking to Be Good and Do Good.
"HOW BEAUTIFUL ARE THE FEET OF THEM THAT PREACH THE GOSPEL OF PEACE, AND BRING GLAD TIDINGS OF GOOD THINGS!…YES VERILY, THEIR SOUND WENT INTO ALL THE EARTH, AND THEIR WORDS UNTO THE ENDS OF THE EARTH." — ROMANS 10:15, 18
Research, Theory, and Publication
In a commitment to spiritual and professional excellence, AMCAP members desire to be informed in their practices by theories consistent with revealed truth and by solid research. Through investigations, analysis, insights and interventions, AMCAP seeks to share their findings and benefit the lives of others. The Issues in Religion and Psychotherapy journal,  the Networker newsletter, Internet resources, conventions, recordings, reports and chapter networks are some of the methods used to facilitate the sharing of gospel-centered, clinical treasures.
"AND THOU SHALT DECLARE GLAD TIDINGS, YEA, PUBLISH IT UPON THE MOUNTAINS, AND UPON EVERY HIGH PLACE, AND AMONG EVERY PEOPLE THAT THOU SHALT BE PERMITTED TO SEE." — D&C 19:29 
The "counselors and psychotherapists" who make up AMCAP come together to share strategies for helping individuals who struggle with depression, marital conflicts, family disruption and other mental health issues. Through personal networking, conventions, AMCAP publications, this main website and other Internet resources – AMCAP members strengthen one another in their capacity to help the struggling and downhearted.
"WHEREFORE, BE FAITHFUL; STAND IN THE OFFICE WHICH I HAVE APPOINTED UNTO YOU; SUCCOR THE WEAK, LIFT UP THE HANDS WHICH HANG DOWN, AND STRENGTHEN THE FEEBLE KNEES. AND IN DOING THESE THINGS THOU WILT DO THE GREATEST GOOD UNTO THY FELLOW BEINGS, AND WILT PROMOTE THE GLORY OF HIM WHO IS YOUR LORD." — D&C 81:5, 4